What are the Different Types of LARP Weapons?

What are the Different Types of LARP Weapons?
Combat and weaponry are an important element of most live action roleplaying games, and after decades of development, the options offered to LARPers in terms of weaponry are plentiful. Most LARP weapons are made safe for mock combat by being crafted with light and flexible materials, and with time, what used to look like puffy foam tubes are now presenting more and more realistic finishes, as well as more varied shapes. If early LARP weapons were merely combat accessories, they are now part of a character's costume, and often bring an aesthetic touch to a warrior's set.
Live action roleplaying game take inspiration from history, mythology and fantasy, with themes and ideas often being burrowed from video games and tabletop roleplaying game such as Dungeons and Dragons. When it comes to weaponry, it means realism or historical reenactment aren't always the priority, with safety concerns, combat systems, and unapologetic ''cool factor'' often driving weapon designs and the way they are used in combat.
LARP Weapon Types
 

Foam weapons come in many shapes and size, inspired by classic historical weapons as well as fantasy styles popular among the hobby.

A weapon serves many purpose in LARP. Obviously, it's used to fight, but like any tool, it's pretty rare a weapon will work perfectly in every situation. Furthermore, a weapon is an important part of your character costume, and can tell a lot about who is wielding it. The right weapon choice can reinforce a character's theme, while a poor weapon choice can give your outfit a mismatched appearance.

There is some subtlety to choosing a weapon, and broad categories like ''swords'' or ''axes'' don't tell the whole story. Still, it is possible to describe a few traits and tendencies related to some of the most famous weapon types.

 
Swords
The go to choice of the majority of LARPers, 
swords
 are the most available weapons on the market and come in many shapes and lengths, from short swords better used in close quarters or as sidearms, medium and long swords well paired with a shield or secondary weapon, to the versatile bastard swords, and the massive two handed ones that provide enormous reach and leverage in combat.
In fact, swords are actually much more prevalent on LARP battlefields than they were in historical ones. That comes from their iconic affiliation with medieval fantasy, but also because they are often the most competitive choice in touch based combat like in LARP. A sword is often a safe pick, a weapon that is going to work decently in most situation, and can suit many classic character archetypes.
An important particularity of LARP swords compared to their historical counterpart is that the majority of foam weapons are ill suited for thrusting, the point being the most fragile part of the weapon, and often having not enough padding to provide the same level of safety than with cuts. For that reason, most LARP events will rule against the use of thrust in sword combat.
Swords sub-types
Specialty Weapons
Axes
Cheaper to make than a sword, and hitting with much more impact force, the battle axes were very popular battlefield weapons, and a good compromise between the versatility of swords and the deadly, yet clumsier maces and warhammers. Historical battle axes, such as those often used by the Vikings, were often quite light and nimble in the hand, but in LARP, fantasy design are commonly massively oversized for a more intimidating look. The real life advantages of axes are difficult to mimic with foam weapons, but some designs have reinforced heads, allowing them to be used to hook shields and weapons, giving them interesting advantages in combat for advanced fencing techniques.
Maces and Warhammers
Some of the simplest and most ancient types of weapons, bludgeoning weapons like clubs, maces, and hammers were easy to use and deadly even in unskilled hands. Historically, there were often seen either as early weapons when metallurgy wasn't quite advanced enough, devastating cavalry weapons, or more often anti-armor specialists. In LARP, the armor crushing and devastating impact force of these weapons cannot be replicated, and they often fall into niche uses, their particular appearance and brutal, effective simplicity giving them some popularity as an alternative to the more common LARP swords. Fantasy designs of those weapons are also often oversized and quite impressive, making them great choices for larger than life types of characters.
Polearms
The rulers of historical battlefields, polearms such as halberds, spears, and glaives can also be quite oppressive in LARP combat, the reach advantage they offer being very relevant in most combat systems around the world, and even more in large scale battles on open fields. Their dominance is only mitigated by safety concerns, with most foam polearm designs being only safe to use for hack and slash, and not thrusting. Still, long poking pikes are still a sight to behold in many battlefields, most famously Bicolline, where pikemen phalanxes are often seen as the core unit. Polearms are also more cumbersome to carry around, better suited to a soldier than an adventurer, which sometimes limit their use to those truly dedicated to this fighting style. The only exceptions to that are the combat staves, which can easily be carried casually like walking sticks.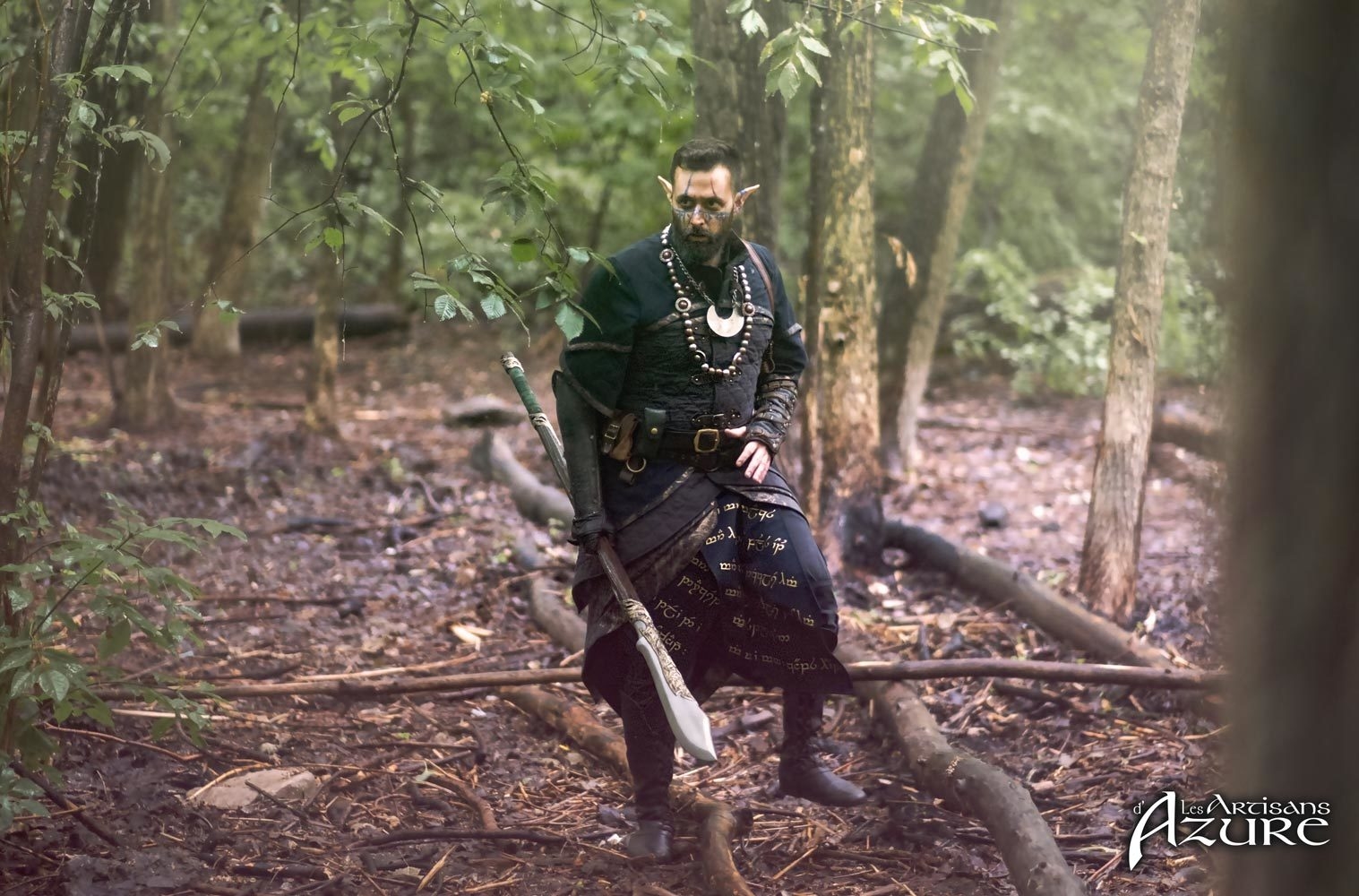 Light Weapons
Light weapons is a very broad category, and some of the distinctive traits of these weapons can be also applied to an extend to short swords and smaller axes. What brings light weapons together is that they aren't really meant as a main weapon, their shorter reach making them difficult to use in a fair fight.
Where they shine is as back up weapons, off-hand weapons used while dual wielding, or when the combat situation is anything but fair. For instance, daggers are perfect for assassins that attack at unexpected moments, drawing a short blade in an instant to strike and vanish without giving their target the time to riposte. Even smaller knives can be uses as hidden weapons, or thrown, since the smallest foam weapons often have no rigid core, making them safe to hurl at your foes.
Light Weapons sub-types
Ranged Weapons
The importance of ranged weapons on historical battlefields is a stated fact. Impossible to ignore in siege warfare, skirmishes, and and pitch battles, bows and crossbows provided a way to weaken and demoralize a foe from afar, without risking a melee engagement. In LARP, even if the effective range of these weapons is much shorter than in real life, they certainly keep that advantage and see a lot of use. Perfect for light footed and less armoured combatants, archery offers a different play style than melee weapons, combat revolving much more about aim, positioning, and quickness to recover those lost arrows laying on the ground.
Contrary to real arrows, LARP arrows are soft tipped and slow moving, thanks to the low draw weight of LARP bows, the  goal being to have a projectile that cannot injure by accident, even if the arrow flies into someone's eye. For that purpose, open foam arrow tips are known as the safest in the hobby, while round tipped arrows are more accurate but banned in some events.
Archery gear
Shields
In terms of defence, only the best armor can somewhat rival the protection offered by a good shield. For centuries, from Antiquity until the end of the Middle Ages, they dominated the battlefields, used by common soldiers, knights, and irregular troops. Shields can be used to form defensive infantry walls, to block arrows, and to close in safely with foes that wield long weapons such as spears. A good shield can allow to fight against multiple opponents and to survive very dangerous situations. In LARP, all of these qualities are not only true, but made even more valuable as, unlike in real combat, foam weapons will never destroy your shield, and grappling is generally forbidden.
Shield bearers are among the most difficult foes to down in combat, often needing to be overwhelmed by greater numbers and flanked. Bigger shields always offer more protection, but at the expanse of mobility and aggression, since a large shield will limit your angles of attack. Bucklers, on the other hand, provide little cover but are easier to carry and move around to block unexpected attacks.
LARP shields can be made of various materials, but for safety reasons, they aren't used to bash or strike, unlike in real battle. Foam and latex shields tend to be the lightest, but many players will craft more authentic shields of their own. Metal frames and shield bosses can be bought to provide a base, and safety padding must always be added around the edges of such shields to protect both the players and their weapons.
Shield sub-types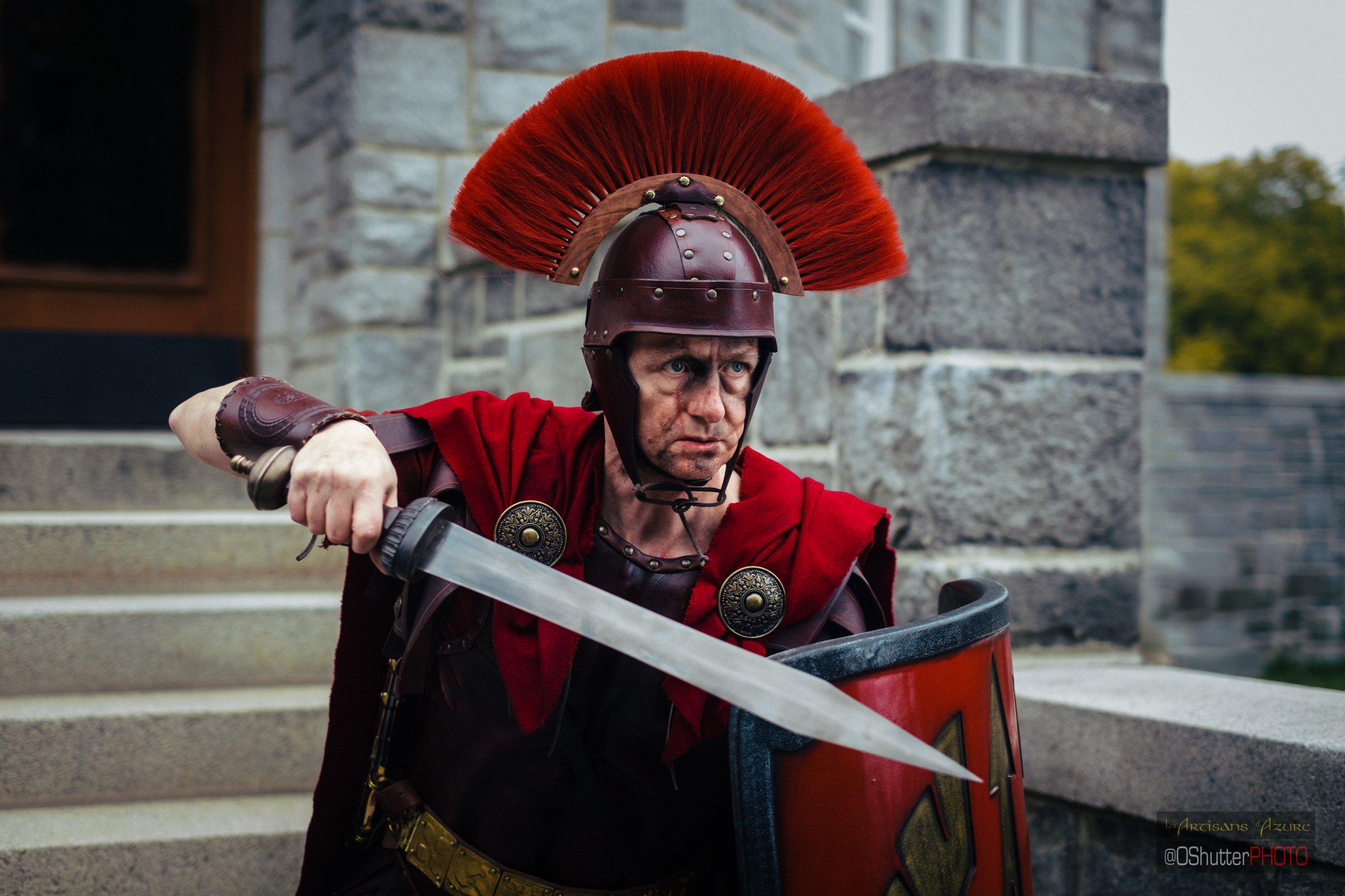 What materials are used for LARP weapons?
 

LARP weapons are universally made of some sort of foam, around a fiberglass or composite core made to be rigid but slightly flexible, with the intend of absorbing some of the impact.

The most ancient and well known professional sword designs used EVA foam or similar closed cell, dense foams. This foam is susceptible to abrasion and doesn't look that good on its own, so it's always covered by a protective and decorative latex layer, with varnish on top. Latex weapons can be of very high quality and often intricately decorated, as this craft is getting very refined after decades of improvements. Nemesis Workshop are famous for this type of weapon. Latex weapons need some maintenance to remain in good condition, protecting the varnish layer being the most important one.

Slightly more recent is the injected foam process of sword making, which replaces the EVA foam by some dense expanding foam, injected inside a mold. These weapons need no latex and are merely spray painted over the foam. Calimacil is a pioneer in the making of this type of weapons. Injected foam weapons require little to no maintenance and are thus very sturdy, but their paint layer is doomed to go off after repeated use, leaving them with a dull, greyish color.

 
Where to buy a LARP weapon?
Les Artisans d'Azure hold most of the main brands for LARP weapons, as well as important accessories such as scabbards and belts to carry them during your LARP event. Come visit our store in person for advice and assistance, or shop online to find everything you need to gear up your next character!
---
2 comments
---
---