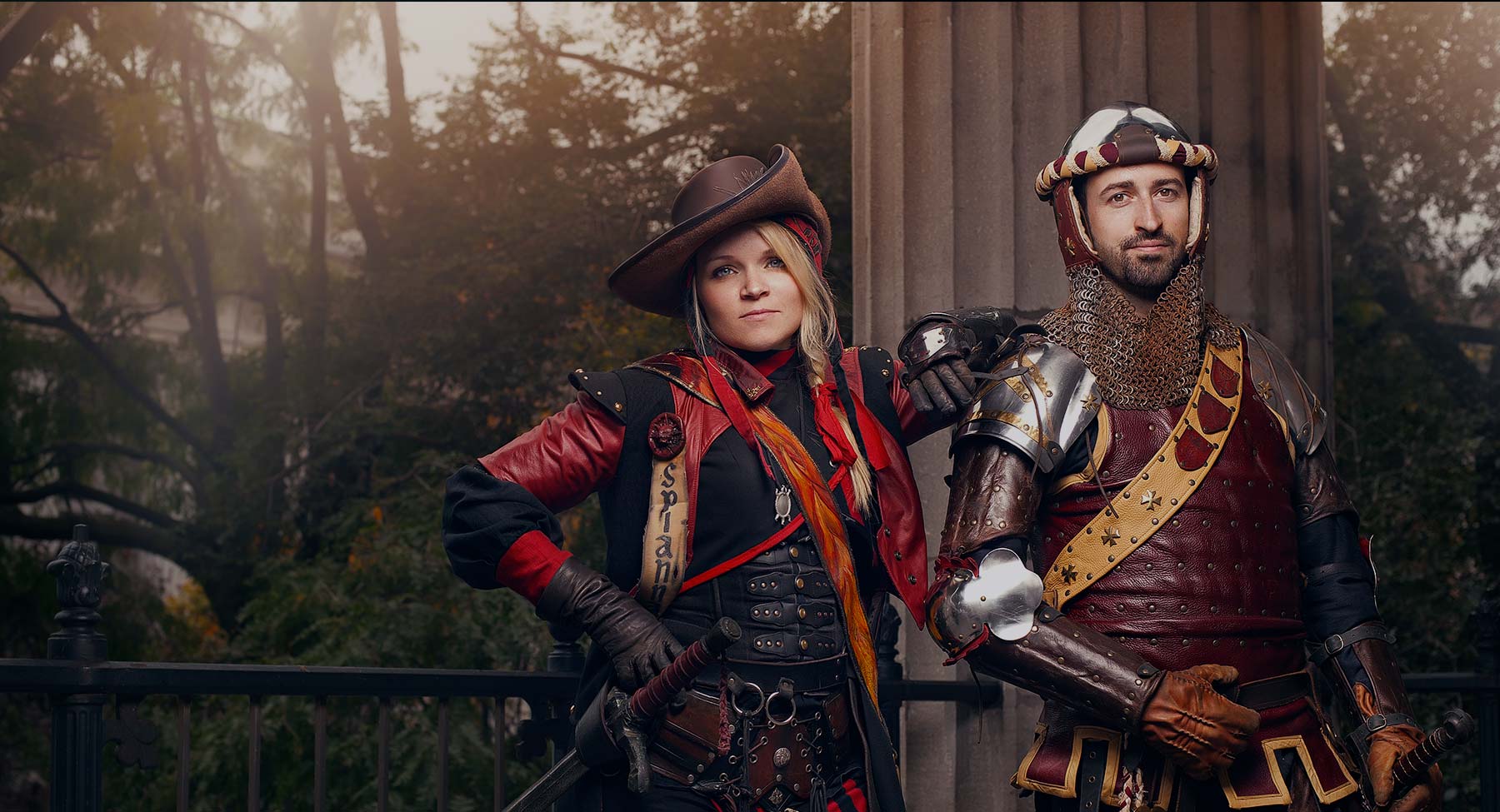 ✧ Company ✧
Debuting in 2005, Les Artisans d'Azure started with Samuel Gagnon-Tremblay's desire to make high quality LARP gear more accessible for the local community. As a LARP enthusiast himself, our founder saw that there was a dire need for armor and accessories made by and for medieval roleplaying. After he crafted his own leather armor for an event, he was quickly approached by other players to create armor on their behalf, and that was the beginning of the adventure.
The medieval fantasy community of that time was dominated by ear-to-ear networking and personal contacts, with access to quality gear often limited to those with crafty friends. Les Artisans d'Azure was no different, and a lot of the first models were made for LARPers that directly knew Samuel. These first years were all about learning and getting to know the material, while keeping a close eye on the evolving trends within the community.
The situation changed with the introduction of the first retailer, an online store known as Le Troll aux Trousses. Moving away from a network-based distribution, this retailer allowed the company to grow and step up its game to achieve higher professionalization and more streamlined production.
In 2009, Les Artisans d'Azure was officially registered as a business and hired its first manager, Maxime Turgeon, while opening a store and workshop in Montreal. With now a public physical location, a larger team, and a LARP community more than ready to supply the demand, things are only going to accelerate from this point.
Incorporating was completed in 2012, and Les Artisans d'Azure began consolidating after years of quick growth. A lot of energy is put into moving business management into software, while also normalizing production standards and improving various aspects of the workflow in the shop (crafting process, logistics, suppliers, partners, etc.). With a second wave of investment in the company, Les Artisans d'Azure reached a new level of efficiency and saw the beginning of the contribution of our long-time artisan Stéphane to our company.
In March 2015, the store-workshop moved into our current location. The newer, larger space opens many possibilities, beginning with a much larger storefront for visitors, but also office spaces, and a massive increase in workshop space for both more workstations and specialized hardware. We saw a wave of hiring, with many artisans joining the team like Christian Buteau who still with us today, but also our first specialized counselors for the store.
---
The space is also shared with the talented team from L'Atelier de l'Arbre Mécanique. After collaborating with them on various projects and beginning to sell their products in the shop, it was no surprise that this close proximity led to a merger-acquisition in 2017. Gaining Anne-Marie Taillefer as co-owner and adding the talents of her team to Les Artisans d'Azure allowed to improve the costume and sewing division of the company. This year also marked the beginning of Mélanie Poirier, our first marketing specialist.
After the fusion, our two owners threw Les Artisans d'Azure into a series of entrepreneurship initiatives oriented toward local small businesses, participating in projects such as Parcours C3 or Le Cabinet Créatif. Public funds are also unlocked to attack the massive undertaking of the digital transition, beginning with the complete redesign of our website in 2019 and the digitalization of various processes.
Like for many other businesses associated with the cultural sector, 2020 was a trial of resilience for Les Artisans d'Azure. With the pandemic and the cancellation of the vast majority of LARP events, the company was shaken, but held strong thanks to the investments made into its online presence the year before. The year was marked by significant investment in training and a move toward teleworking, which was born from necessity but is now an integral part of our normal functioning.
Starting in 2021, Les Artisans d'Azure get rid of manager based structures and top down hierarchy to establish horizontal work cells and a responsibilized work environment allowing more space for individual initiative and autonomy. It is also the year we see with regrets the end of a long-term local partner, with the closing of Epic Armoury Unlimited. At least, some portion of the former retailer's expertise is transferred to our company by the important hiring of Jean-Philippe Rodier, a key member of our team and a true asset for the logistical aspect of the company.
With the now unused office spaces created by the move toward teleworking, a new opportunity arose; taking down walls and upsizing the store. With all that new space, not only could we offer better access to our visitors, but we also had the freedom to configure the displays to present a better selection of products, in a more coherent shopping experience.
By the beginning of 2022, Les Artisans d'Azure is truly on a roll, with now more than 20 employees and a workshop optimized for 10 artisans working full time, something never seen until now!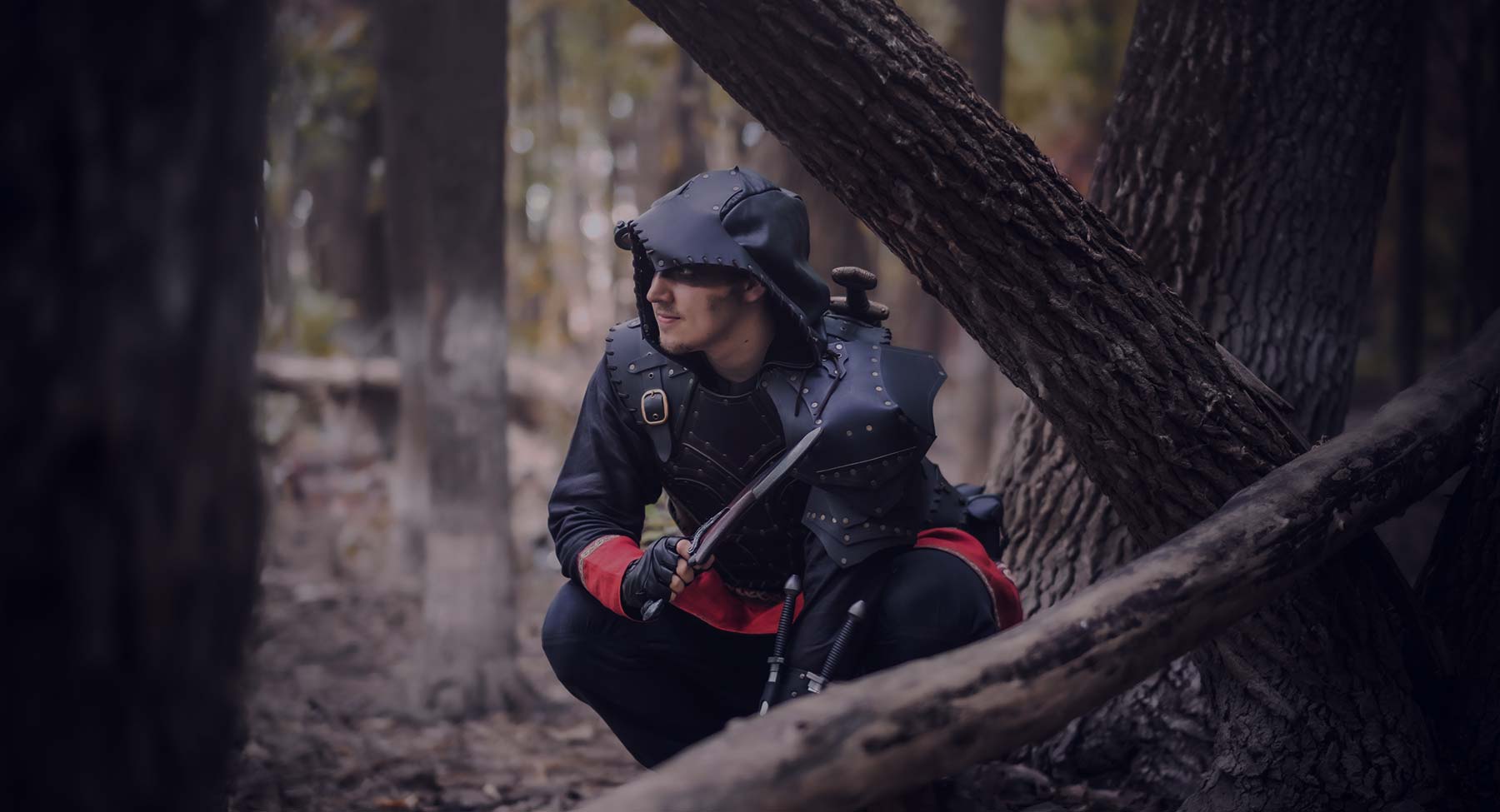 Timeline
Creations
In more than 15 years of history, Les Artisans d'Azure created a wide range of products for LARP enthusiasts. This timeline identifies the highlights of product development and the history of our most important creations.
2005-2008
The first designs from Samuel are tested in various LARP in Quebec. Those were mostly made of leather trims acquired from factories, an economical and ecological way to explore the material and get creative. Those designs are all discontinued or considered archaic by today's standards, but it was an important step.
2009-2011
After opening the first store-workshop, we developed a series of simple leather armor designs, today often referred to as the B series (Baudouin, Borge, Bohemont, Behan, Beaufort, etc.). They are sets including a breastplate, pauldrons, bracers, and greaves. They are still around and represent a large portion of our entry-level armors.
This timeline also sees the launch of slightly more complex designs like the Dark armor, the armored corset, the Barbarian armor, the Scoundrel, or the Knight. This last one is one of our first standard models made of vegetable leather, and also among the first using some now commonplace innovations like the recessed torso pieces, which give more mobility.n.
2012-2013
The team keeps working on new designs to fill in our catalog, developing more advanced models such as the Monsterkiller, with its foam spikes, the Necromancer with its molded skulls, the Conqueror with its plate and leather composite design, or the Valkyrie, our first full female armor set.
The War vest, the Roman armor and the Samurai armor come later with their own small evolutions, exploring new forms and new unique assembly techniques.
2016
After a few years focusing on the move to our new location and perfecting products and smaller accessories, Les Artisans d'Azure returned to creating new armor sets. This time, the work is divided between the artisans, each one responsible for designing a high-end armor set filling a specific niche. This process leads to the creation of five sets: the Outlaw, the Nomad, the Destroyer, the Woodland, and the Viking.
These armors are more ambitious and detailed than ever, and consolidate the emergence of a middle range between our more basic products and the fully custom creations we design for some clients.
2017
The next year, products and custom creations were officially divided between the three production levels we now use at Les Artisans d'Azure. This is the beginning of the Heroic range, utilitarian and minimalist, the Epic range, including more advanced standard products, and the Legendary range, only seen in custom projects, and where our artisans really let loose with the details and finish.
2018
After the more spontaneous development of our last five armors, the company change its strategy for the next batch of development, this proceeding in a more concerted and methodical manner.
The Visby coat-of-plate was initially developed to answer the needs of the Viner Guild for Bicolline, adapted afterward for a larger public. The Assassin armor was the end result of a series of prototypes designed the previous year while exploring the differences between the three aforementioned ranges. Lastly, the Chaos was our first redesign, replacing an older creation that had been around since the beginning of the store.
Various products and accessories from l'Arbre Mécanique were also absorbed into our standard collection at that time, including the gorgeous Manuscript collection and most corset-belt.
2019
Following a custom project that led us to explore new molding techniques, the team designed the Legion, a Roman muscular armor. On the other hand, the Shieldmaiden set was born as a result of new improvements made in our workshop in 2019, including an amazing sewing machine capable of handling thick leather.
Finally, 2019 sees the beginning of a new product type for Les Artisans d'Azure, a high-end scabbard that will inspire a few spinoffs in the future. With the creation of an official license Witcher scabbard for our partners at Calimacil, the company discovers both the community's interest for full scabbard for foam swords, as well as the potential for partnerships with other LARP oriented companies.
2020
This first collaboration led Les Artisans d'Azure to co-design a set of weapons and accessories for a Bicolline anniversary event. This was made in partnership with Calimacil, Dracolite and Bicolline itself, all big players in the local medieval enthusiast community.
The team also adapts a series of accessories, most of them initially designed as part of our long-term collaboration with LARP Box, with which we had been working since 2017.
2021
Building upon the success of the Witcher's scabbard, Les Artisans d'Azure creates two new high-end scabbard collections in parallel, one with Nemesis Workshop, and the other for Calimacil. The ones distributed by Nemesis are specially adapted for the latex swords and daggers of their Athena range, while we designed rigid scabbards for some of the most common Calimacil's blade shapes. Foamsmiths and leatherworkers are now linked by these popular complementary sets, consolidating the cooperation between our LARP companies.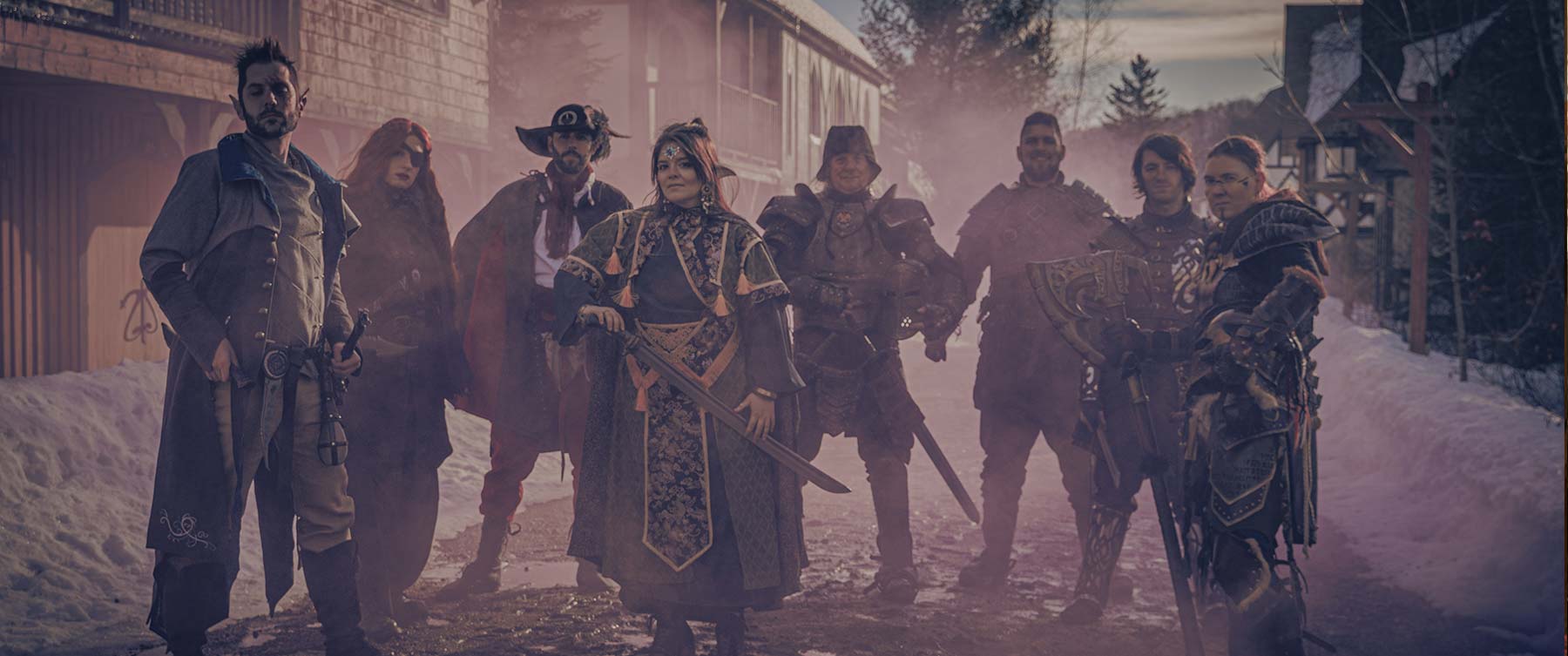 Community's history
Les Artisans d'Azure always kept close ties with the LARP community, having an ear on the ground since its creation in 2005. The original mission of the company was to provide adapted and high quality products for medieval fantasy LARPers, and to help improve the decorum seen in live action roleplaying games.
For 15 years, Les Artisans d'Azure has grown alongside the local LARP community. We have been part of the very first Montreal Medieval Fair, and attended the event every year since, growing into a well-known name in the Quebec LARP scene.
As the hobby grew bigger and more popular, so did our role as part of the community. With the opening of our store-workshop, we moved from simple artisans to what can be described as an informal embassy for LARPing in Montreal, a place where anyone can enter with questions or mere curiosity, and leave with the information they need to join us in our passion. More than simply helping visitor with gear and costumes, our counselors make it their duty to share their love of roleplaying games. They provide guidance, advices, and external resources to potential players trying to join the community, may it be assistance to find an event in their region, or context about the different styles of play and what they may prefer.
We also played this emissary role in various events and conventions such as the Montreal Comiccon, reaching out to groups outside the community to explain what we are about, and help make LARPing better known by the general public. That responsibility was never more important to us than when we embarked in La Quest in 2019, a commercial mission in Germany spearheaded by our two owners. They went there to meet the local artisans, businesses, and more importantly, the players, for Germany is the world's largest LARP hub, and hosting the two biggest events worldwide. This was a truly inspiring and galvanizing experience for Anne-Marie and Samuel, and the whole community could follow their journey from here through blogs and videos.
Les Artisans d'Azure also like to get involved in community-building initiatives, the most important of which is probably the FDGN, a non-profit uniting LARP organizers in Quebec. Our very own Mélanie even sat on their board as representative from 2019 to 2021, helping to foster cooperation and assist LARP teams to provide better services.
In the same logic of community support and involvement, Les Artisans d'Azure launched the Azure Order in 2021, an associate program that allows LARP organizations to access funds and special promotions to procure gear and costumes.
Last but not least, the company stepped up its involvement with Bicolline, the largest medieval event in North American, by acquiring La Haute Garde, a well-known location within the village which has been hosting a shop for years during the Great Battle. This building gives Les Artisans d'Azure a foot on the ground and deepens our roots within the Bicolline's world, guaranteeing our participation will only increase in the years to come.