Our strength: Our creations
Custom
Be unique with a costume inspired by your imagination and character. From armor to clothing, custom creations from Les Artisans d'Azure will meet your needs.
Request an appointment
«My Valkyrie Armor is absolutely amazing! You guys were quick to custom make the pauldrons and greaves when they were OOS to guarantee I would have them on time. Very quick turn around time. Thank you for my beautiful leather armor!»
- C. Woodcock
«For a long time I was looking for craftspeople capable of making ''my Norman Shield'', I exposed my project, in the end, a neat finish, work of quality and excellent service from the beginning to the end. Thank you so much.»
- S. Dubois
«The rogue armor was everything I could have ever wanted and more, the people are very kind and keep track of the progress on your custom order. Great communication, amazing customer service, and absolutely amazing product. If you need armor, go through these guys, there's nothing they can't do.»
- G. Higham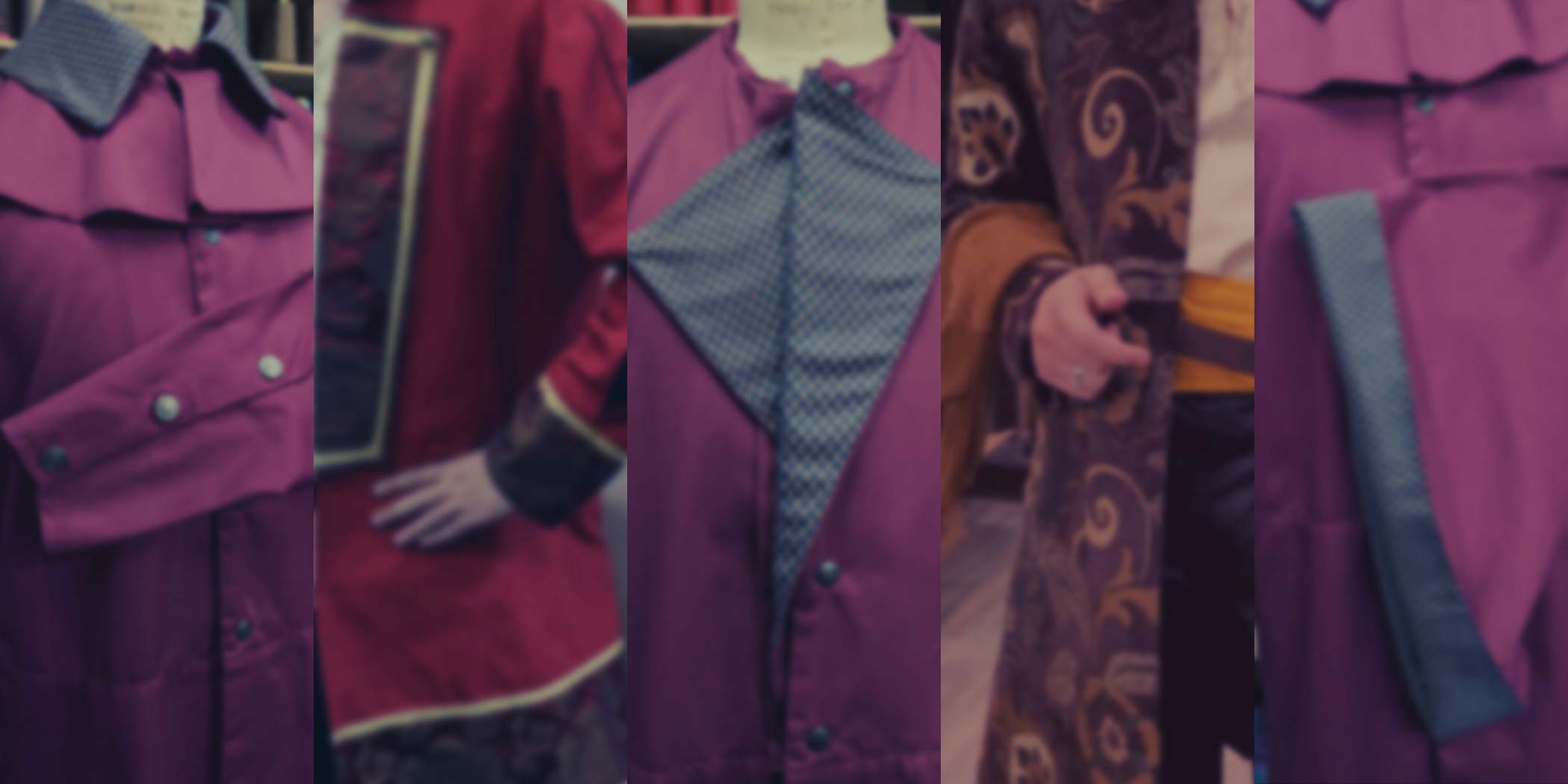 A Custom Coat at a fraction of the Cost
Steps for custom creations
Since their beginnings, Les Artisans d'Azure offers this service for individuals and businesses. The types of projects are as diverse as our local and international clientele. The tailoring is a process taking place over several weeks, here are the main steps:
Step 1
Explain your project
The custom creation process takes a few weeks. The first step is to contact us to share your ideas. We can then determine the value of the project and confirm some details with you. Following the initial payment, the project will be taken care of by our team of experienced craftspeople.
Armors - Clothings - Accessories - Cosplay - Design
Step 2
Evaluation
Based on the information and inspirational images received, we will evaluate your project based on the estimated hours of work necessary and the materials needed. Feel free to tell us your budget and the amount of detail required.
On request, it is possible to have an appointment with one of our craftspeople directly in our workshop.
Step 3
Beginning of the Project
Once all the details are defined, we can start the creation.
To formalize a custom project, it is necessary to make the full payment or a deposit of 50%. Payment arrangements can also be made for projects over $ 1000 CAD. In all situations, no delivery will be made before the final payment. Choose your preferred method of payment.
"Due to lockdown precautions, we cannot take measurements in person, contact us for the new procedure!"
Step 4
Production
Our craftsmen will realize your customized project directly in our fully equipped workshops. Here are our favorite materials:
- Soft and thick leather
- Vegetable leather for molding, patinas and engravings
- Fabrics: Cotton, linen, wool and silk
- Metal: mild steel, stainless steel and aluminium
- False fur or legally captured
Step 5
Project Delivery
The majority of our custom-made confections are made within a production time varying between 4 to 6 weeks. Some custom-made projects requiring special skills or materials can influence the lead time. The one doing your evaluation will inform you at the time of submission.
After the final payment, your suit will be sent via one of our carriers to your delivery address. The delivery time varies depending on the destination.
3 levels of details for every types of project
Artistic creation requires several hours of work and the possibilities are very vast. By this idea, several versions can be made with different styles, but mainly several levels of finishing. To improve communication with you and meet your expectations, we have put in place three levels of detail. The more time we invest, the more detailed the project and the higher the final bill. Let's imagine together the costume of your dreams!
Heroic level
Armor Characteristics
Regular Leather: Black, Brown or Red
Simple and Efficient Designs
Standard Buckles and Rivets
---
Clothing Characteristics
No lining
No prototype or fitting canvas during production
Simple cut, finish and textile
No decoration
Partial adjustment
Simple and symmetrical designs
---
Budget: $
The vast majority of our standard products are of heroic level. Do not hesitate to order them with an epic finish for only around 20% more. Choose your colors simply!
Epic Level
Armor Characteristics
Vegetable Leather or arrangement of Special Leathers with or without Leather Molding
Custom Dyes, Patinas and Gradients
Embossing with Printing
Efficient and Complex Designs
Standard Buckles and Rivets
---
Clothing Characteristics
Partial Lining (sleeves/torso)
Prototype canvas with a fitting during production
More developed and adjusted design, with possibility of asymmetry
More choices of textiles
Decorations (ribbons, piping, buttons, borders)
---
Budget: $$
Legendary Level
Armor Characteristics
Vegetable Leather or arrangement of Special Leathers
Custom Dyes, Complex Patinas and Enhanced or Distressed Finish.
Combined engraving: laser, printing and hand-made
Engraved, rolled and/or painted borders
Complex Designs
Fittings during Production Available
Special Buckles and Rivets
---
Clothing Characteristics
Complete lining
Prototype canvas with one or more fittings during production
Detailed Custom Designs with Possibility of Asymmetry
Complete Adjustments
High-Quality Textiles
Custom Decorations (borders, engravings, embroideries, drawings, etc.)
---
Budget: $$$$
Elevating Your Projects: Our Techniques
To breathe life into your projects, we employ a range of techniques, including laser engraving, electro-etching, canvas printing, and heat transfer vinyl cutting. Discover more here: